Apparemment, il est né à Buenos Aires en 1980 et il a vécu à Neuquén (Patagonie) jusqu'à 25 ans.
Il a tenté l'échec dans plusieurs domaines et il s'est avéré qu'il excellait. En désespoir de cause, il se tourne vers la photographie.
Il étudie alors, joue et travaille en Argentine jusqu'à ce que en 2005, il parte en Italie, où d'après lui, il se forme véritablement à la photographie en étudiant et en enseignant à la Scuola di Fotografia Graffiti de Rome. En 2008 il part en Afrique du nord en parcourant le Maroc, le Sahara occidental, la Mauritanie, le Mali et puis le Burkina Faso, où il réside pendant sept mois.
Il y fait des reportages pour les revues Carta, Left et Jeune Afrique.
De retour en Italie, il languit à Carpi, province de Mòdena, où il se dédie à la photographie d'événements et de groupes musicaux.
Les années qui suivent, on le retrouve à Barcelone où, en collaboration avec Sharon Lomanno, il fait de la photographie de mode, festivals, défilés et architecture.
Il travaille dans la publicité de marques renommées telles que Heineken, Diesel, Moët, Bacardi, Martini, Mentos, entre autres.
En 2012 il parcourt la Thaïlande, le Vietnam, le Laos, la Malaisie et l'Australie en réalisant des reportages photo sur des Mines d'améthyste, des temples bouddhistes et des marchés populaires.
De retour à Carpi, Il fait partie d'un studio de photographes appelé Stuffa et fait des reportages photo pour L'association Yaku.
Les derniers indices montrent qu'il erre dans la ville de Toulouse toujours accompagné de son appareil photo vagabondant entre le festival Ciné España et la revue italo-française Radici.
A suivre…
It seems that he was born in Buenos Aires in 1980 and lived in Neuquen (Patagonia ) until he was 25.
He tried failure in different fields with great success, so he decided to devote himself to photography as a last resource.
Studied, played and worked in Argentina until moving to Italy in 2005 where , according to him, he acquired his main training as a photographer, studying and teaching at the Scuola di Fotografía Graffiti in Rome.
He left to North Africa in 2008 and traveled through Morocco, Western Sahara , Mauritania , Mali until Burkina Faso. There he stayed for seven months and worked doing reports for the magazines Carta, Jeune Afrique and Left.
Again in Italy for two long years languishing in Carpi (Modena), he dedicated his photography to social events and musical groups.
The following years he was found in Barcelona where, in collaboration with Sharon Lomanno , he photographs fashion, festivals, architecture and events. He is also hired to advertise renowned brands as Heineken , Diesel, Moet , Bacardi , Martini, Mentos among others.
In 2012 he travels for 7 months to Thailand , Cambodia , Vietnam , Laos , Malaysia and Australia performing photoreports of Amethyst Mines , a School of Buddhist monks and street markets.
Now he is back in Carpi, and is part of a photographer´s studio called Stuffa. He also collaborates with the Association Yaku in exhibitions and photoreports.
The latest that is known about him, is that he collaborated with the Association AppenAppena providing photos for the advertisement of their festivals.
To be continued …
Parece que nació en Buenos Aires en el 1980 y que vivió en Neuquén (Patagonia) hasta los 25 años.
Intentó el fracaso en distintas carreras con gran éxito, por lo que decide dedicarse como último recurso a la fotografía.
Estudia, juega y trabaja en Argentina, hasta que se muda a Italia en 2005 donde, según él, adquiere su principal formación como fotógrafo, estudiando y enseñando en la Scuola di Fotografía Graffiti de Roma.
Parte al norte de África en 2008 y recorre Marruecos, Sahara Occidental, Mauritania, Mali, hasta Burkina Faso. Allí reside durante siete meses. Trabaja realizando reportajes para las revistas Carta, Left e Jeune Afrique.
Otra vez en Italia, por dos largos años languidece en Carpi provincia de Mòdena, donde se dedica a la fotografía de sociales y grupos musicales.
Los años siguientes lo encuentran en Barcelona donde, en colaboración con Sharon Lomanno, fotografía moda, festivales, desfiles, arquitectura, eventos y es contratado para la publicidad de reconocidas marcas: Heineken, Diesel, Moët, Bacardi, Martini, Mentos y otros.
En 2012 viaja por 7 meses a Tailandia, Camboya, Vietnam, Laos, Malasia y Australia realizando fotorreportajes sobre Minas de amatista, escuela de monjes budistas y mercados callejeros.
Ahora está nuevamente en Carpi, forma parte de un estudio de fotógrafos llamado Stuffa y colabora con la Asociación Yaku en muestras y reportajes.
… lo último que se sabe es que colaboró con la Asociación AppenAppena aportando las fotos para la publicidad de sus festivales.
Continuará…
Si dice sia nato a Buenos Aires nel 1980 e vissuto a Neuquén (Patagonia) fino ai 25 anni.
Tenta il fallimento in diverse carriere con grande successo, perciò decide di dedicarsi come ultima risorsa alla fotografia.
Studia, gioca e lavora in Argentina fino a quando non decide di trasferirsi in Italia, nel 2005, dove inizia a immergersi in quella che sarà la sua vera formazione, studiando e insegnando alla Scuola di Fotografia Graffiti di Roma.
Nel 2008 parte per il Nordafrica attraversando Marocco, Sahara Occidentale, Mauritania, Ghana, Mali e Burkina Faso. Trascorrono così sette mesi, in cui realizza reportage per le riviste Carta, Left e Jeune Afrique.
Un'altra volta in Italia passano due lunghi anni a Carpi (Modena), dove si dedica in collaborazione con Tiziano Battini alla fotografia di eventi, matrimoni e gruppi musicali.
Gli anni seguenti lo vedono a Barcellona dove inizia ad avventurarsi, in collaborazione con Sharon Lomanno, nel campo della fotografia di moda, festival, sfilate, architettura, eventi e pubblicità per famosi marchi come Heineken, Diesel, Moët, Bacardi, Martini, Mentos e altri ancora.
Nel 2012 riprende il suo viaggio e in sette mesi, stavolta, attraversa Thailandia, Cambogia, Vietnam, Laos, Malesia e Australia, realizzando un reportage sulle miniere di ametista, uno sulla scuola per monaci buddisti e un altro sui mercati all'aperto.
Il fato lo riporta a Carpi dove fonda, assieme ad altri fotografi locali, lo studio fotografico Stuffa e collabora con l'Associazione Yaku con mostre e reportage.
Le ultime notizie che si hanno di lui dicono abbia lavorato assieme all'Associazione Appena Appena curando le fotografie per la pubblicità per l'omonimo festival annuale di teatro e musica.
Continua…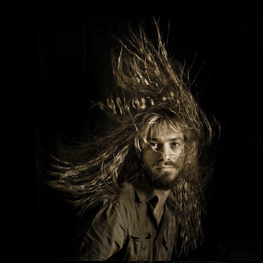 Dream Designer
Richard Makers
contact